The DNG 2300 3-channel white noise generator protects against listening devices that can not be discovered by the usual counter surveillance methods.
We know that sound has the ability to pass through walls and windows, as well as materials that do not pop to mind immediately, like water. It also passes through ventilation shafts, cavities and voids. That makes it possible to listen to conversations that are taking place in closed rooms, with high sensitive microphones, laser systems or even conventional microphones.

The DNG-2300 white noise generator and its transducers and speakers, create in a way, a sound curtain around the space using a white noise that can not be filtered. In that way the sound (a confidential conversation for example) can not leave the room, and thus can not be eavesdropped upon with a stethoscope or laser microphone.
DNG 2300 protects from
Laser and microwave surveillance systems using reflections from windows
Electronic stethoscopes (contact microphones)
Microphones built in the walls or other constructions
Other vibro-acoustic methods of information leakage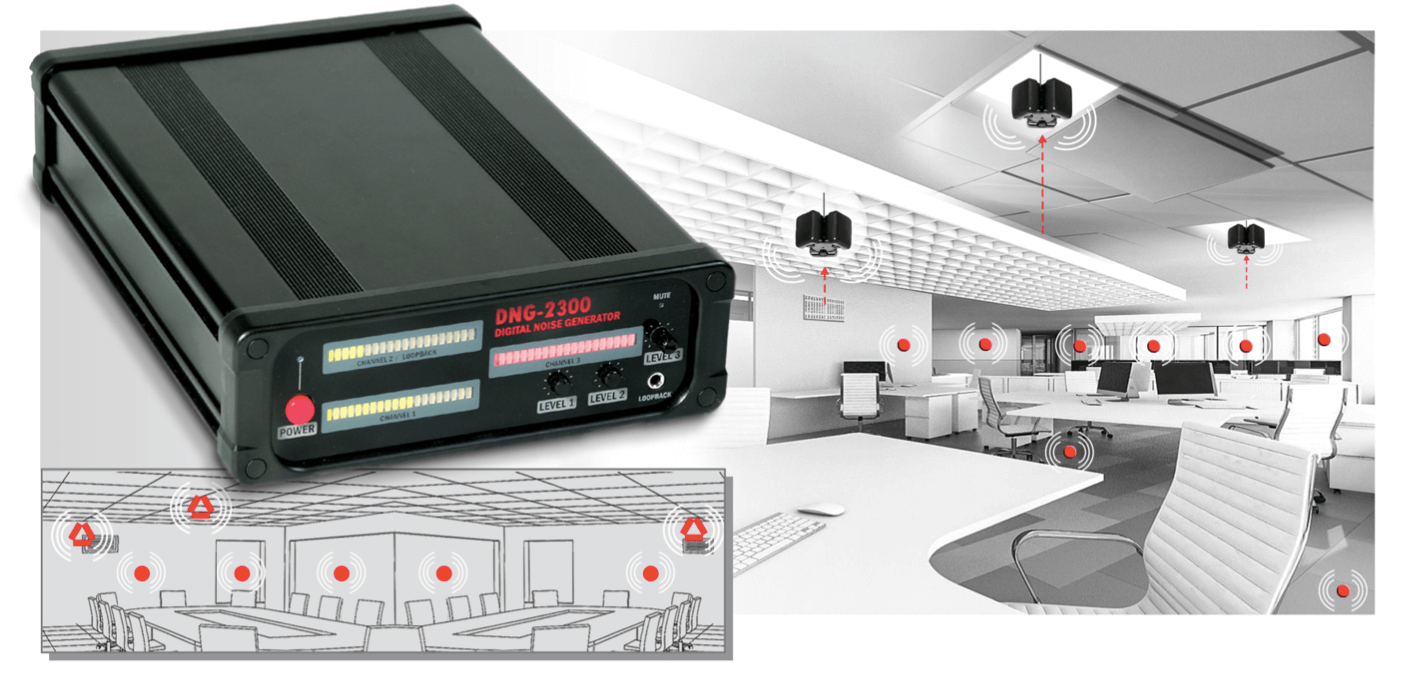 Illustration from Digiscan Labs catalogue.
By surrounding the structures and cavities with a non-filterable noise it creates a powerful protection against all types of vibro-acoutsic surveillance, and the leakage can not take place.
In other words, by creating the white noise, and evenly distributing it through the spectrum of the human voice, while simultaneously using the wire-connected transducers and speakers, it suppresses all available methods of vibro-acoustic leakage.
Each of the Transducers channel can feed up to 12 transducers mounted on solid structures like concrete, cement, bricks. It can also feed up to 24 transducers on light structures like glass, pipes, a drywall, or wood. The speakers channel allow up to 12 speakers, and the mute control input allows the user to turn Off the speakers temporarily.
The transducers TD2300 and Speakers SP2300, are sold separately.
DNG 2300 Specification:
Dimensions (without antennas): 6.0 × 17.5 × 25.4 cm
Weight, kg: 2.2
Power: 220 V, 50 Hz

Transducer channels:
Max. output power, W: 2×10
Frequency response, Hz: 250 - 5000
Min. impedance of load, Ohm: 3

Acoustic channel:
Max. output power, W: 1×8
Frequency response, Hz: 250 - 6500
Min. impedance of load, Ohm: 8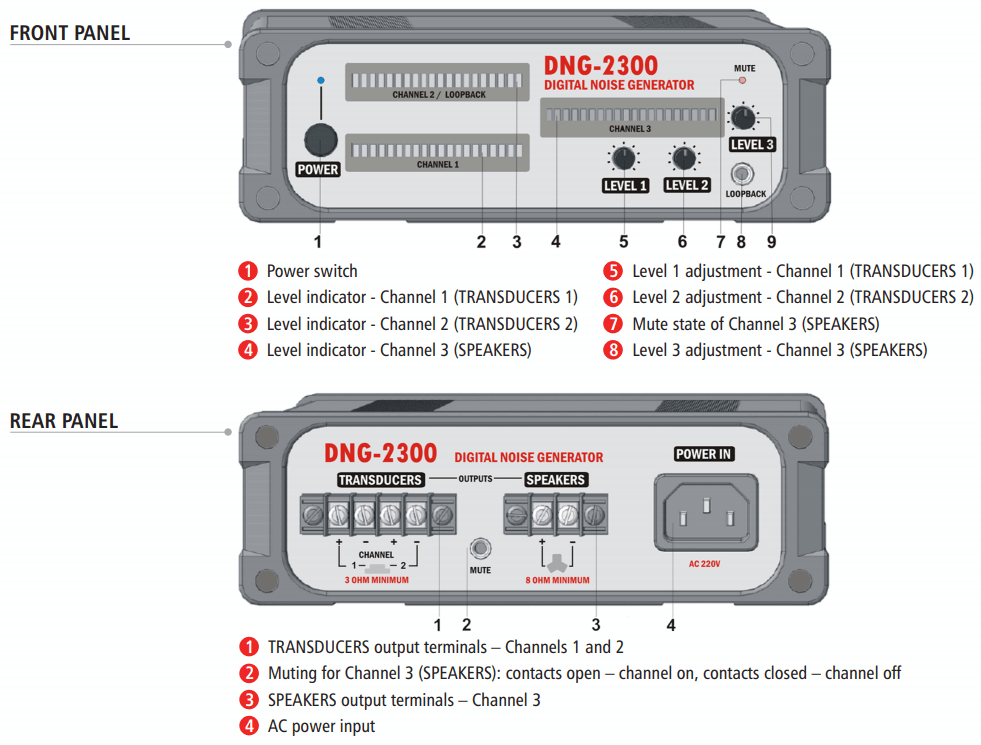 >>Image from specifications PDF<<
SPECIFICATIONS
Power source: 110-220V, 50-60Hz
Dimensions (without antennas), cm: 6.0×17.5×25.4
Weight: 2.2 kg
Output channels

2 x TRANSDUCERS
1 x SPEAKERS

Peak output voltage12V
TRANSDUCERS output (2)

Max. output power: 2×10W
Frequency response: 180-5600 Hz
Min. impedance of load: 3 Ohm
Recommended transducer: TD 2300
Max. quantity of transducers per channel: 24 (light structures); 12 (solid structures)

SPEAKERS output

Max. output power: 1 x 8W
Frequency response: 180-7000 Hz
Min. impedance of load: 8Ohm
Recommended speaker: SP2300
Max. quantity of speakers: 12
It is well-known that sound permeates through walls, doors, water, windows and other constructions as well as through voids, cavities and ventilation shafts. This property of materials makes it possible to intercept conversations conducted within a premises with the help of highly sensitive contact microphones (electronic stethoscopes), window laser systems or conventional microphones without entering the target area.
Wall contact microphones can pick up vibrations from the plumbing, structures, walls, windows, doors, floors, ceilings and more. The listening device may be in an adjacent room, or even several floors or rooms away attached to a wall, pipe or other fixture. Cavities such as air ducts, ventilation shafts or other voids can be used for intercepting sound from an adjacent premises with a help of conventional microphones.
Window laser systems are able to "read" conversations from the premises by sending visible, or invisible, infrared beams to the glass and extracting the sound vibrations from the reflected rays.
The DNG-2300 generator, together with its transducers and speakers, counteracts all the above mentioned methods of listening by creating powerful, non-filterable interference on the structure of a building and within its voids. While transducers inject their generated noise into surfaces and structures, stopping the distribution of sound through them, the role of a speaker is to fill voids, cavities and ventilation shafts with audio interference to prevent leakage of sound through the air.
The DNG KIT is also available
It Includes:
1* DNG 2300 and
1* AC Power Cord,
12* Transducers,
2* Omni direct speakers, and
1 carry case.
Kit Price: R76 825
This is the standard set that includes
1* DNG 2300 and 1* AC Power Cord.